Protective Tool Covers
PTC
View Larger Image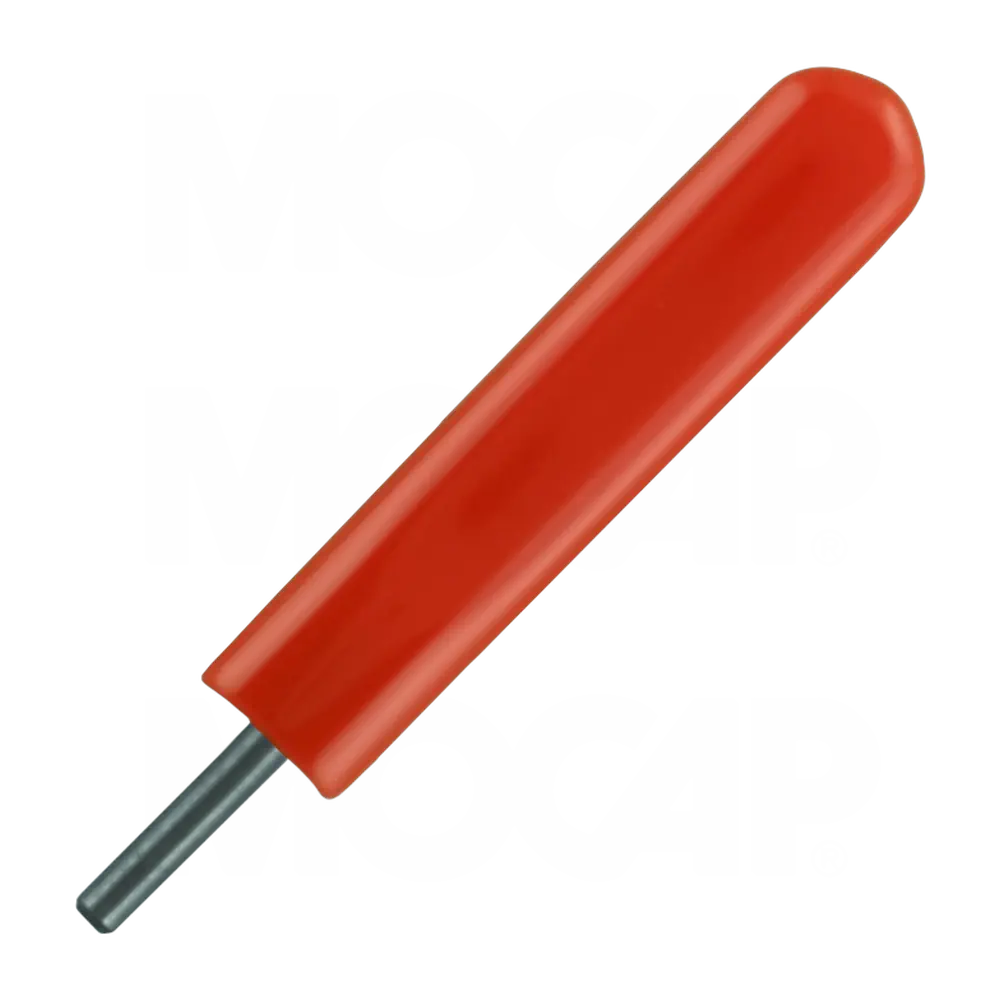 Material: Vinyl
Stocked Material: Vinyl (Various Colors)
Snug Fit, but Easily Removed
Flexible Yet Durable - Won't Split, Tear or Shred
Sizes Fit Multiple Imperial and Metric Tool Diameters
Reference #
Description
To Suit Tool Diameter
Inside Height

Inside Width

Inside Length

Wall Thickness

Material

Box

/

Mini

/

Micro


QTY

Buy Online

RFVGC9058R-15
Protective Tool Covers - 0.062" x 0.375" x 2.000" Flat Vinyl Grip (RFVG9058) End Style: Round, Material: Red Vinyl
M3, M4, M5, 1/8", 3/16"

0.062

1.6

9.5

50.8

0.055

1.4

Red

360

72

7

RFVGC9071OR-15
Protective Drill Bit Covers - 0.125" x 0.500" x 2.000" Flat Vinyl Grip (RFVG9071) End Style: Round, Material: Orange Vinyl
M6, M8, 1/4", 5/16"

0.125

3.2

12.7

50.8

0.060

1.5

Orange

400

80

8

RFVGC9074YW-15
Tool Protection Covers - 0.125" x 0.750" x 2.000" Flat Vinyl Grip (RFVG9074) End Style: Round, Material: Yellow Vinyl
M10, M11, M12, 3/8", 7/16"

0.125

3.2

19.1

50.8

0.060

1.5

Yellow

280

56

5

RFVGC9083GR-20
Covers for Carbide Cutting Tools - 0.250" x 0.750" x 3.000" Flat Vinyl Grip (RFVG9083) End Style: Round, Material: Green Vinyl
M14, 1/2", 9/16"

0.250

6.4

19.1

76.2

0.060

1.5

Green

280

56

5

RFVGC9084BL-15
Cutting Tool Covers - 0.250" x 1.000" x 3.000" Flat Vinyl Grip (RFVG9084) End Style: Round, Material: Blue Vinyl
M16, M18, 5/8"

0.250

6.4

25.4

76.2

0.060

1.5

Blue

300

60

6

RFVGC9085G-25
Drill Bit Covers - 0.250" x 1.250" x 4.000" Flat Vinyl Grip (RFVG9085) End Style: Round, Material: Gray Vinyl
M20, M22, 3/4", 7/8"

0.250

6.4

31.8

101.6

0.060

1.5

Gray

270

54

5

RFVGC1202-25
Protective Drill Bit Covers - 0.250" x 1.437" x 4.000" Flat Vinyl Grip (RFVG1202) End Style: Round, Material: Black Vinyl
M24, M25, 1"

0.250

6.4

36.5

101.6

0.055

1.4

Black

273

54

5

Reference #
Description
To Suit Tool Diameter
Inside Height

Inside Width

Inside Length

Wall Thickness

Material

Box

/

Mini

/

Micro


QTY

Buy Online
Legend:
- Add to Cart - Buy now
- View Price
Protective Tool Covers - Information
Beckett Packaging now offers a series of flat vinyl Protective Tool Covers.

These Vinyl dip-molded flat rectangular covers are durable yet stretch to provide a secure fit on tools, drill bits, taps, endmills or the cutting surface of other items which need protection. The advantage of these covers is that a small range of sizes will fit snugly over a wide range of both imperial and metric tool sizes.


Beckett Packaging
Protective Tool Covers
can be used to safeguard a wide variety of parts:
Drill Bits
Metalworking End Mills
Small-Diameter Micro Drills
Solid Carbide Cutting Tools
Woodworking Tools
Dental Burs
PROTECTION FOR YOUR CUTTING TOOLS
Use Beckett Packaging
Protective Tool Covers
to protect and organize your cutting tools while in storage at your workspace, in your tool drawers, chests or cabinets.
Use our flat vinyl covers as
durable and inexpensive protection
to secure your tools cutting surface while not in use. Or consider other
Beckett Packaging
Products
.
Contact us
at 800.649.4980 for pricing, special orders and product information.