Heavy Wall Clear Plastic Tubes
HW
View Larger Image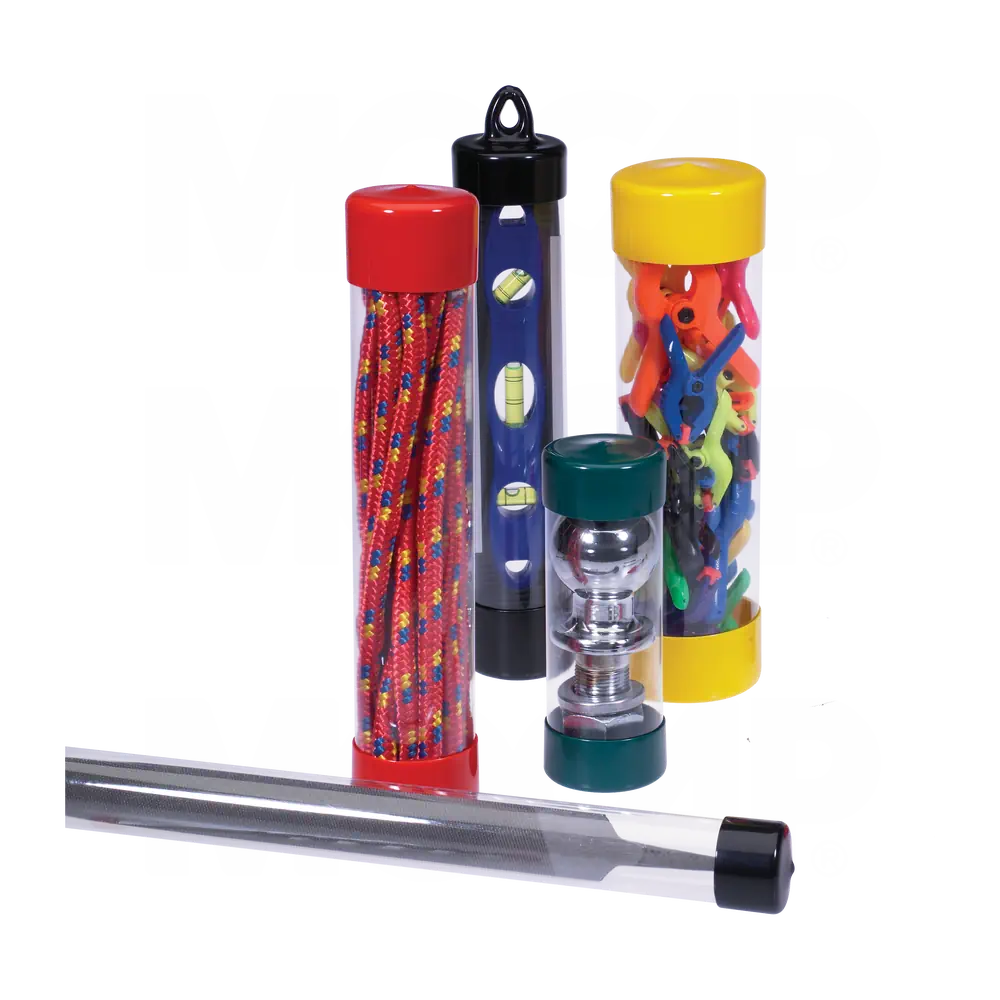 Material: PETG (Polyethylene Terephthalate Glycol)
Durable and Strong
Extruded and cut to the length you require for your application
Stocked in 4 foot lengths and sold in box or mini-pack quantities
Several closure cap/plug styles to choose from (SOLD SEPARATELY)
Default
Reference #

Style

Description
Nominal Size
Inside Diam.

Wall Thickness

Outside Diam.

Length


in

Stocked Length


in

Box

/

Mini


QTY

Buy Online

1
PRT.020-.234

HW

Heavy Wall Clear Plastic Tubes - 3/16" ROUND HVY WALL X ? TUBE PETG-000
3/16"

4.9

0.020

0.5

5.9

*

12 48

100 - 500

50

2
PRT.022-.323

HW

Heavy Duty Plastic Packaging Tubes - 1/4" ROUND HVY WALL X ? TUBE PETG-000
1/4"

7.1

0.022

0.6

8.2

*

12 48

100 - 500

50

3
PRT.022-.445

HW

Heavy Duty Rigid Plastic Tubes - 3/8" ROUND HVY WALL X ? TUBE PETG-000
3/8"

10.2

0.022

0.6

11.3

*

12 48

100 - 350

50

4
PRT.022-.572

HW

Strong Plastic Packaging Tubes - 1/2" ROUND HVY WALL X ? TUBE PETG-000
1/2"

13.4

0.022

0.6

14.5

*

12 48

100 - 300

25

5
PRT.022-.665

HW

Clear Plastic Packaging Tubes - 9/16" ROUND HVY WALL X ? TUBE PETG-000
9/16"

15.8

0.022

0.6

16.9

*

12 48

100 - 250

25

6
PRT.022-.742

HW

Thick Plastic Transparent Tubes - 5/8" ROUND HVY WALL X ? TUBE PETG-000
5/8"

17.7

0.022

0.6

18.8

*

12 48

100 - 250

25

7
PRT.022-.838

HW

Clear Packaging Vial - 3/4" ROUND HVY WALL X ? TUBE PETG-000
3/4"

20.2

0.022

0.6

21.3

*

12 48

100 - 250

25

8
PRT.022-.905

HW

Sturdy Transparent Tubular Packaging - 13/16" ROUND HEAVY WALL X ? TUBE PETG-000
13/16"

21.9

0.022

0.6

23.0

*

12 48

100 - 250

25

9
PRT.022-.976

HW

Heavy-Walled Packaging Tubes - 7/8" ROUND HVY WALL X ? TUBE PETG-000
7/8"

23.7

0.022

0.6

24.8

*

12 48

100 - 200

25

10
PRT.022-1.060

HW

Heavy Wall Clear Plastic Tubes - 15/16" ROUND HEAVY WALL X ? TUBE PETG-000
15/16"

25.8

0.022

0.6

26.9

*

12 48

100 - 150

25

11
PRT.022-1.131

HW

Heavy Duty Plastic Packaging Tubes - 1.0" ROUND HVY WALL X ? TUBE PETG-000
1 "

27.6

0.022

0.6

28.7

*

12 48

50 - 150

25

12
PRT.022-1.186

HW

Heavy Duty Rigid Plastic Tubes - 1-1/8" ROUND HEAVY WALL X ? TUBE PETG-000
1-1/8"

29.0

0.022

0.6

30.1

*

12 48

50 - 100

25

13
PRT.022-1.251

HW

Strong Plastic Packaging Tubes - 1-3/16" ROUND HEAVY WALL X ? TUBE PETG-000
1-3/16"

30.7

0.022

0.6

31.8

*

12 48

50 - 125

25

14
PRT.022-1.399

HW

Clear Plastic Packaging Tubes - 1-1/4" ROUND HVY WALL X ? TUBE PETG-000
1-1/4"

34.4

0.022

0.6

35.5

*

12 48

50 - 100

18

15
PRT.022-1.474

HW

Thick Plastic Transparent Tubes - 1-3/8" ROUND HVY WALL X ? TUBE PETG-000
1-3/8"

36.3

0.022

0.6

37.4

*

12 48

50 - 85

15

16
PRT.022-1.568

HW

Clear Packaging Vial - 1-7/16" ROUND HEAVY WALL X ? TUBE PETG-000
1-7/16"

38.7

0.022

0.6

39.8

*

12 48

50 - 75

15

17
PRT.022-1.680

HW

Sturdy Transparent Tubular Packaging - 1-1/2" ROUND HVY WALL X ? TUBE PETG-000
1-1/2"

41.6

0.022

0.6

42.7

*

8.75 11.5 12 48

50 - 150

12 - 25

18
PRT.028-1.750

HW

Heavy-Walled Packaging Tubes - 1-5/8" ROUND HVY WALL X ? TUBE PETG-000
1-5/8"

43.0

0.028

0.7

44.5

*

12 48

50 - 60

10

19
PRT.028-1.860

HW

Heavy Wall Clear Plastic Tubes - 1-3/4" ROUND HVY WALL X ? TUBE PETG-000
1-3/4"

45.8

0.028

0.7

47.2

*

12 48

50 - 55

8

20
PRT.028-1.970

HW

Heavy Duty Plastic Packaging Tubes - 1-7/8" ROUND HEAVY WALL X ? TUBE PETG-000
1-7/8"

48.6

0.028

0.7

50.0

*

12 48

50

8

21
PRT.028-2.110

HW

Heavy Duty Rigid Plastic Tubes - 2.0" ROUND HVY WALL X ? TUBE PETG-000
2 "

52.2

0.028

0.7

53.6

*

8.75 11.5 12 48

45 - 100

8 - 25

22
PRT.028-2.212

HW

Strong Plastic Packaging Tubes - 2-1/8" ROUND HEAVY WALL x ? TUBE PETG-000
2-1/8"

54.8

0.028

0.7

56.2

*

12 48

42 - 50

8

23
PRT.028-2.360

HW

Clear Plastic Packaging Tubes - 2-1/4" ROUND HVY WALL X ? TUBE PETG-000
2-1/4"

58.5

0.028

0.7

59.9

*

12 48

35 - 50

6

24
PRT.028-2.610

HW

Thick Plastic Transparent Tubes - 2-1/2" ROUND HVY WALL X ? TUBE PETG-000
2-1/2"

64.9

0.028

0.7

66.3

*

12 48

25

5

25
PRT.028-2.830

HW

Clear Packaging Vial - 2-3/4" ROUND HVY WALL X ? TUBE PETG-000
2-3/4"

70.5

0.028

0.7

71.9

*

12 48

25

3

26
PRT.032-3.135

HW

Sturdy Transparent Tubular Packaging - 3.0" ROUND HVY WALL X ? TUBE PETG-000
3 "

78.0

0.032

0.8

79.6

*

12 48

20 - 25

3

27
PRT.032-3.620

HW

Heavy-Walled Packaging Tubes - 3-1/2" ROUND HVY WALL X ? TUBE PETG-000
3-1/2"

90.3

0.032

0.8

91.9

*

12 48

16 - 25

2

28
PRT.035-4.106

HW

Heavy Wall Clear Plastic Tubes - 4.0" ROUND HVY WALL X ? TUBE PETG-000
4 "

102.5

0.035

0.9

104.3

*

12 48

12 - 18

2

Default
Reference #

Style

Description
Nominal Size
Inside Diam.

Wall Thickness

Outside Diam.

Length


in

Stocked Length


in

Box

/

Mini


QTY

Buy Online
Legend:
- Add to Cart - Buy now
- View Price
* Specify length when ordering.
Click Here to view our full selection of stocked lengths.
Tolerances
| Tube Size | Outside Diam. | Wall Thickness | Length |
| --- | --- | --- | --- |
| 3/16" - 2 3/4" | ±.003 | ±.003 | ±.062 |
| 3" - 3 1/2" | ±.005 | ±.003 | ±.062 |
| 4" | ±.008 | ±.004 | ±.062 |
Cleartec's heavy wall clear plastic tubes offer the durability and clarity required to handle the packaging of cutting tools.
Durable and attractive, our vinyl caps are the suggested closure for our clear plastic heavy wall tubes. These caps are stocked in red and black, but other colors are available if time permits.
Heavy Wall Clear Plastic Tubes - Information
Our heavy wall clear plastic tube packaging is an ideal method for protecting heavy or fragile items such as welding rods, bearings, cutting tools, machined parts, medical devices or any items which require a heavy-duty package.
Our tough heavy wall plastic tubes and containers are reusable and offer unparalleled protection for your valuable merchandise.
The available closures and end caps that are available for our heavy wall tubes and containers are
vinyl caps
and
vinyl hanger caps
.
In addition to packaging, these plastic tubes can be used as
clear plastic mailing tubes
, a part feeder and storage tube for automated assembly operations or even as a component part of your product.
Our heavy wall clear plastic tubes are:
Extruded and cut to the length you require for your application OR
Stocked in 4 foot lengths and sold in box quantities.
Contact us
at 800.817.8967 for pricing, special orders and product information.