Hanging Tubes & Flat Sealed Tubes
HT
View Larger Image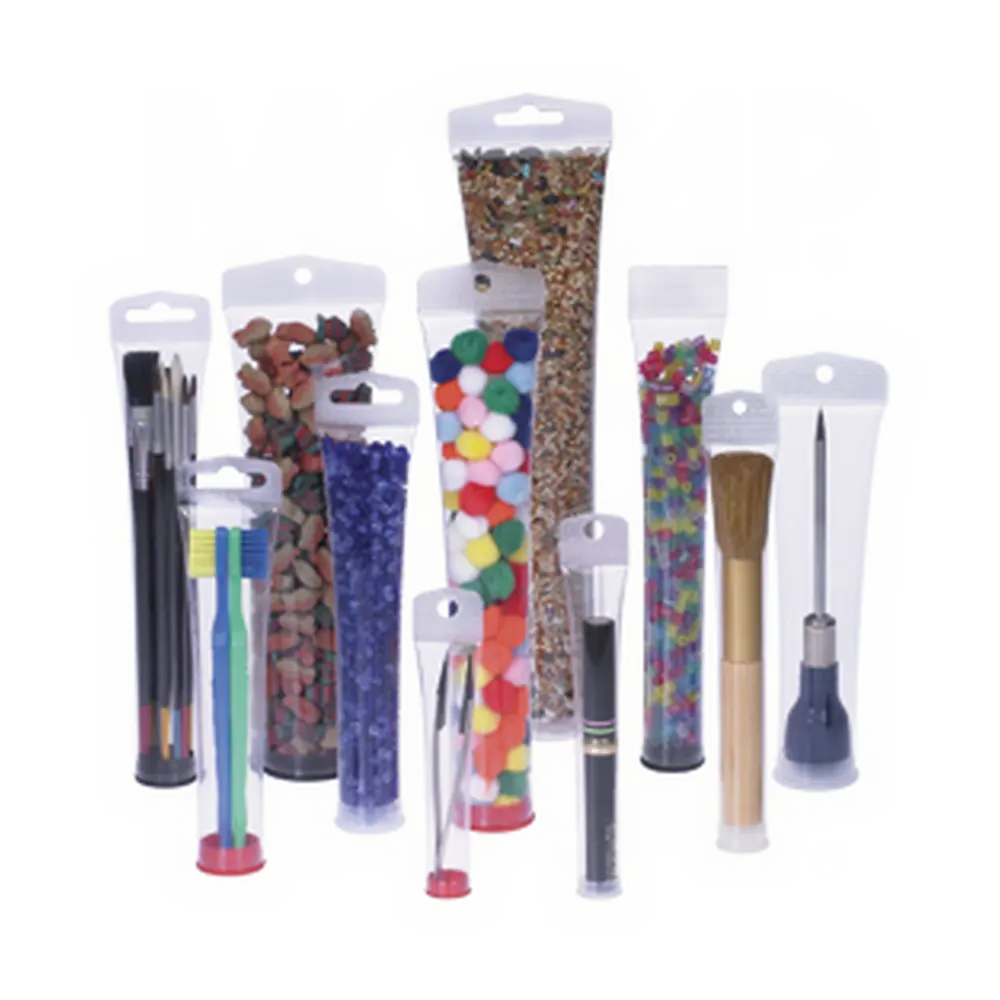 Material: PETG (Polyethylene Terephthalate Glycol)
Can be produced with or without a hole punch for hanging
Unique Design
Extruded and cut to the length you require for your application
Nominal Size
Inside Diam.

Wall Thickness

Outside Diam.

Length


in


Sealed Only

Sealed & Die Cut

With Round Hole

With Sombrero Hole
1/4"

7.6

0.012

0.3

8.2

*

✓
✓
3/8"

10.7

0.012

0.3

11.3

*

✓
✓
✓
1/2"

13.9

0.012

0.3

14.5

*

✓
✓
✓
5/8"

18.1

0.012

0.3

18.7

*

✓
✓
✓
3/4"

20.5

0.012

0.3

21.1

*

✓
✓
✓
7/8"

23.9

0.012

0.3

24.5

*

✓
✓
✓
1 "

27.9

0.012

0.3

28.5

*

✓
✓
✓
✓
1-1/4"

34.6

0.012

0.3

35.2

*

✓
✓
✓
✓
1-1/2"

41.8

0.012

0.3

42.4

*

✓
✓
✓
✓
1-3/4"

46.2

0.012

0.3

46.8

*

✓
✓
✓
✓
2 "

52.6

0.014

0.4

53.3

*

✓
✓
✓
✓
Nominal Size
Inside Diam.

Wall Thickness

Outside Diam.

Length


in


Sealed Only

Sealed & Die Cut

With Round Hole

With Sombrero Hole
* Specify length when ordering.

Tolerances
| Tube Size | Inside Diam. | Wall Thickness | Length |
| --- | --- | --- | --- |
| 3/16" - 2 3/4" | ±.003 | ±.003 | ±.062 |
| 3" - 3 1/2" | ±.005 | ±.003 | ±.062 |
| 4" | ±.008 | ±.005 | ±.062 |
Our clear plastic hanging tubes are the solution to your retail display problems. Our flat sealed hanging tubes create compelling displays, allowing the customer complete view while keeping the product protected.
Easy to insert and remove, our inner-fit poly plugs are the suggested closures for our clear plastic hanging tubes. They are stocked in red, black & natural colors.
Hanging Tubes & Flat Sealed Tubes - Information
Our hanging tubes are ready for your retail packaging challenge. A novel, built-in hanger allows your product to hang on a peg hook, while requiring only one
closure
. Attractive and durable, these hanging tubes are available in a total of eleven diameters, manufactured to your specified length, with either a round or sombrero punch.
To help maintain lower retail packaging costs, our hanging tubes are produced with an
ultra-thin wall
, which are slightly thinner than our standard
thin wall plastic tubes
. These plastic tubes are also available with a flat seal only or a die cut flat seal without hole-punch for countertop displays or other non-hanging applications.
Our clear Hanging tubes & Flat Sealed tubes are:
Extruded and cut to the length you require for your application
Available with or without a hole punch for hanging
In addition to our plastic hanging tubes, Cleartec Packaging also offers
ultra-thin wall tubes and containers
,
thin wall tube packaging
,
heavy wall tubes
,
sealed bottom containers
and
mailing tubes
.
Contact us
at 800.817.8967 for pricing, special orders and product information.